Stats of items has beed added to posts. Now you can see stats (Views) every item on sarcheshmeh.
For more information click here
---
Artist page has been started on Sarcheshmeh! Its free , if you are an artist lets to make it on sarcheshmeh by email us.
---
"Mail A Friend" service now available on Sarcheshmeh. To recommended an item to your friend(s) by email, press this button and complete related form then click on send. This button is in "Share & Options" widget on right side of any item.
---
We setup new Sub domains for Iranian visitors who have filtering problem. Now you can visit Sarcheshmeh Music within 2 New subdomains in Iran: http://view.sarcheshmeh.ws and http://view.sarcheshmeh.us, Please inform us when these domains filtered by email:

[email protected]
---
Sarcheshmeh setup new section for Persian Models in part as name Gallery, You can see Persian Top Models at http://gallery.sarcheshmeh.us
---
Like / Dislike vote option has been added to posts, Now you can vote every post in Sarcheshmeh.
---
Domain www.sarcheshmeh.ws has been registered by Sarcheshmeh industrial group. Our accessible domains for mobile contain: www.sarcheshmeh.us/m and www.sarcheshmeh.ws/m
---
Video player for Facebook activated since July 2013. Now you can play videos in Facebook by share Sarcheshmeh's link.
---
Sub domain of music department has been changed from http://blog.sarcheshmeh.us to http://music.sarcheshmeh.us.
All links with link blog.sarcheshmeh.us available too and diverted to the same address by new subdomain and you have no problem with last address.
---
MP3 Player for Facebook Activated on Sarcheshmeh's Music's
Now you can share any link of our website and play it online in your Facebook profiles, pages and...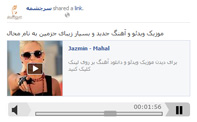 ---
If you need a free Media Player for your blog or website, use follow link to create a free online Audio/Video Player.
Online A/V Player
---

Sarcheshmeh to complete it's personnel invite from you to cooperating with us.
To cooperation with Sarcheshmeh please email your resume to: [email protected]
If you live out of Iran please send us full contact information (such as: Cell# & Address)